Welcome to the Bastard Wiki!
We are currently editing over 448 articles since November 29, 2010.
Careful: This wiki contains spoilers, read with caution!
---
Upcoming Anime Highlights
Featured Article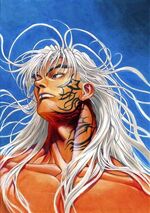 Dark Schneider is the main character of the series Bastard!! and is the most powerful wizard of the series. 15 years before the current timeline, he had an army of wizards and warriors led by the "Riders of Havoc". He was defeated by Lars Ul Metallicana, but used his magic to reincarnate himself into a young boy named Lushe Ren Ren.
Read more >>
Poll