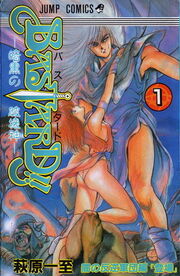 The manga itself began in 1988 in the Weekly Shonen Jump magazine. Later, it was sent to the Ultra Jump, a "Seinen" magazine that is preserved for young adults. To date it spans twenty six volumes with the twenty seventh currently in the process of being published.
The manga follows the adventures of Dark Schneider, a legendary 400-year-old wizard whose dream is to conquer the world and take all the women for himself. He was nearly successful until his defeat by Prince Lars of Metallicana, fifteen years prior to the events of volume one. Now resurrected, this unlikely hero may be the last hope to save the world from destruction.
THE DARK REBEL ARMIES
HELL'S REQUIEM
CRIMES AND PUNISHMENT
THE IMMORAL LAWS
THE TOMB OF SPELLS
Community content is available under
CC-BY-SA
unless otherwise noted.